Various Sizes
2021
Silkscreen, UV Ink, RISO
An Incomplete Archive of Capturing Blackness

Printmaking project probing the past and future of
Black and queer artists

This project is an both an archive and an ongoing commentary on the nature of said archive consisting of histories and photos that would be archived under [Black] or [African/American]. The project pulls under-shared stories of historically significant Black trans and Black queer leaders and annotates them with screen prints and handwritten archive tags that illuminate the stories. The archive also includes copper UV print photos of current Black RISD students with their own handwritten archive tags. This creates a voice for these artists in defining how they will be described to future generations.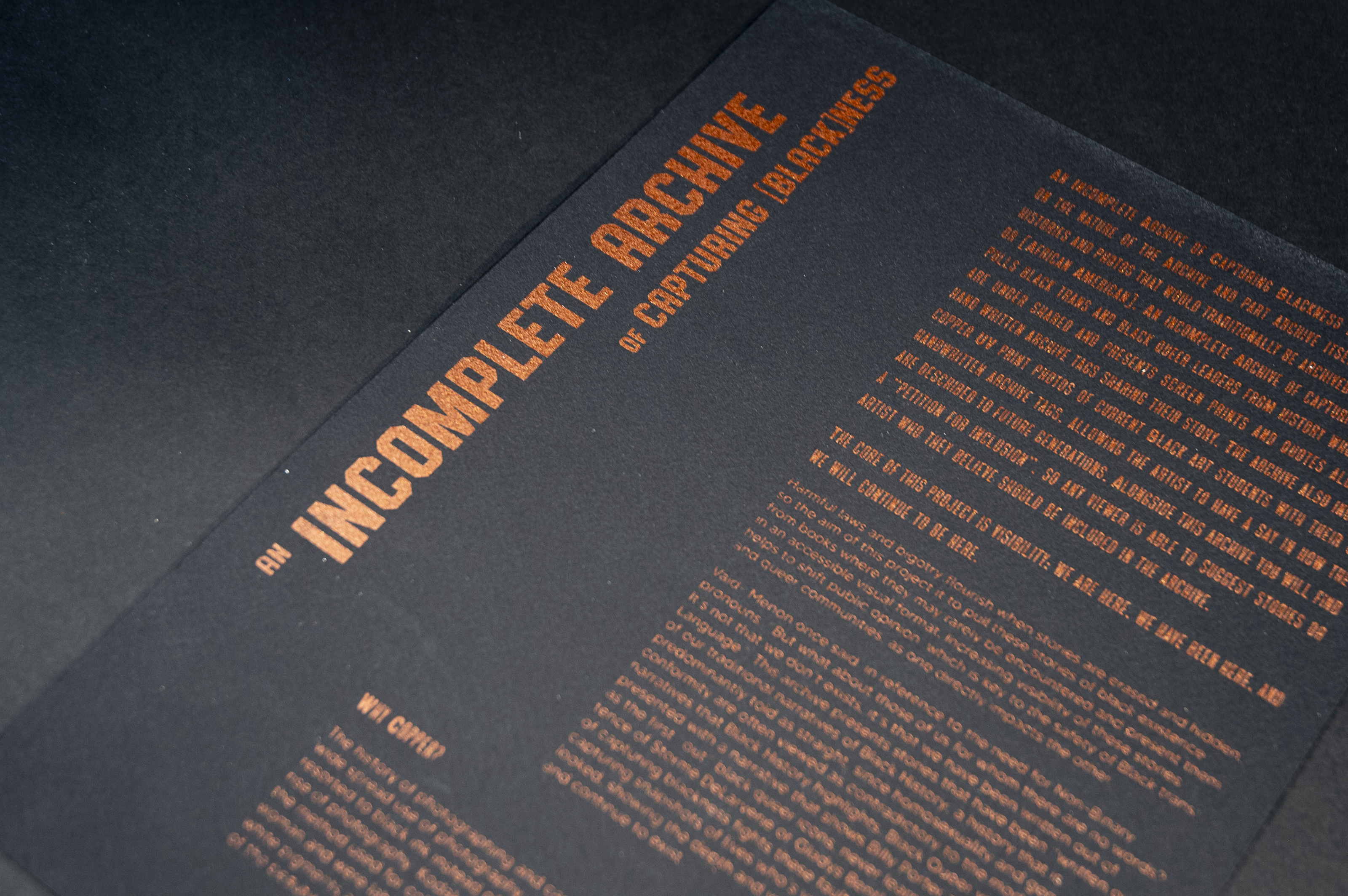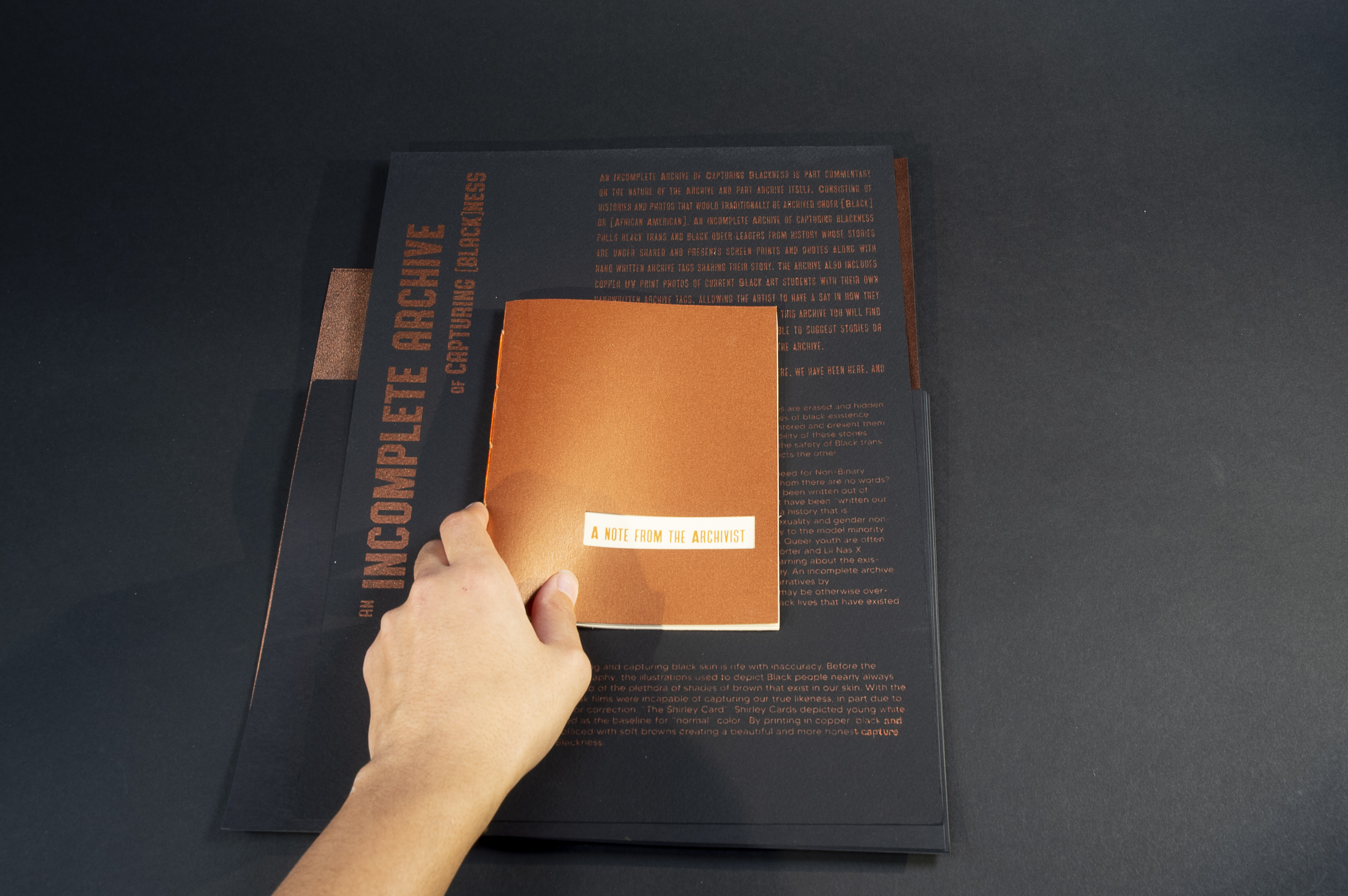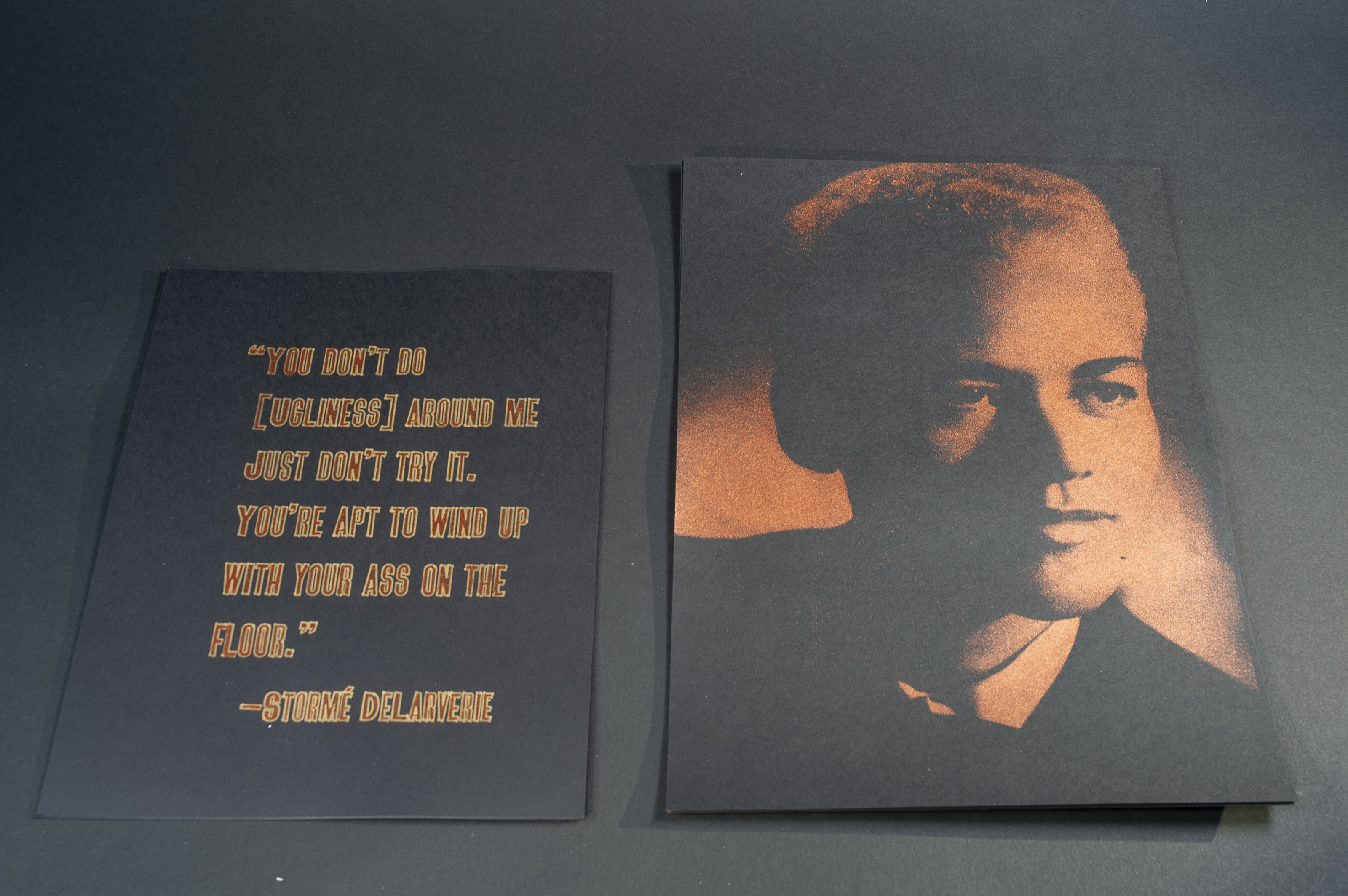 The final component of the project is a "petition for inclusion" so that viewing the archive becomes a participatory event. This petition solicits from the viewer their involvement by asking them to suggest stories or artists that they believe should be added to the archive. Harmful laws and bigotry flourish when stories are forgotten, erased and hidden. The aim of this project is to pull these stories of black existence from books where they may be rarely encountered and present them in an accessible visual format. Increasing the visibility of these stories helps to shift public opinion, which is key to the safety and flourishing of Black trans and queer communities.

The guiding spirit of the project is visibility: we are here, we have been here, and we will continue to be here.

In reference to the need for non-Binary pronouns, Alok Vlad-Menon says, "But what about those of us for whom there are no words? It's not that we don't exist, it's that we have been written out of Language". This archive is focused on stories that have been "written out" of our traditional narratives of Black History. This history is overwhelmingly told as straight, since homosexuality and gender nonconformity are generally viewed as contradictory to the "model" minority narratives that are highlighted by Black History. Black queer youth are presented with a narrative that shows Billy Porter and Lil Nas X as the first "out" black queer icons. They are denied learning about the existence of Stormé DeLaurie or Gladys Bentley. An Incomplete Archive of Capturing Blackness fights these faulty narratives by capturing snapshots of these "invisible" lives, showing the depth and variety of lives that enrich the fullness of Black History.
Archive petiton for inclusion.